Security as a Service for Today's Enterprises
With Cato's security as a service, you gain the benefit of consistent security across your entire network while offloading the day to day management to Cato. No more capacity planning, software upgrades, operational complexities, or hidden costs. At the same time, you maintain granular control of all your security policies, with easy configuration through Cato's centralized management portal.
Our network was designed with security in mind. All our PoPs are interconnected using fully-meshed, encrypted tunnels. Customers connect to Cato through encrypted tunnels, established by our Cato Socket (a zero-touch appliance deployed at physical locations), or through IPsec tunnels from existing security appliances.
All our security services are backed by our massive data warehouse to detect and protect your network from the most advanced threats. As part of the service, Cato employs a dedicated research team of security experts, Cato Security Research Labs, which continuously monitor, analyze and tune all the security engines, risk data feeds, and databases to optimize customer protection.
Access Control Across Your Network
Cato provides enterprises with access control capabilities through our next-generation firewall (NGFW) and secure web gateway (SWG). Our NGFW provides full application awareness with the ability to inspect the payload of packet data and distinguish between different types of web traffic. Cato's SWG allows customers to monitor, control and block access to websites based on predefined and customizable categories.
Next-generation Firewall
The Cato NGFW inspects both WAN and Internet traffic. It can enforce granular rules based on network entities, time restrictions, and type of traffic. The Deep Packet Inspection (DPI) engine classifies the relevant context, such as application or services, as early as the first packet and without having to decrypt the payload. Cato provides a full list of signatures and parsers to identify common applications. In addition, custom application definitions identify account-specific applications by port, IP address or domain.

Internet Firewall Rules
---
Secure Web Gateway
Cato provides a SWG to give you granular control over your Internet-bound traffic, enabling enforcement of corporate policies and preventing downloads of unwanted or malicious software. We provide predefined policies for dozens of different URL categories and support custom rules, enhancing the granularity of web access control. As with the rest of our service, the SWG is easily managed through Cato's management portal and covered by a full audit trail.

URL Categories and Default Action
Cloud and Data Security
Cato's SASE Cloud enables enterprises to gain better visibility and control over their cloud-hosted applications. Cato's Cloud Access Security Broker (CASB) provides in depth visibility into SaaS usage and enables IT leaders to better cope with shadow IT.
Cloud Access Security Broker (CASB)
Cato's Cloud Access Security Broker (CASB) provides IT managers with comprehensive insight into their organisation's cloud application usage, covering both sanctioned and unsanctioned (Shadow IT) applications. Cato's CASB enables assessment of each SaaS application in order to evaluate its potential risk, and definition of highly granular and flexible access rules to ensure least privileges and minimal risk exposure.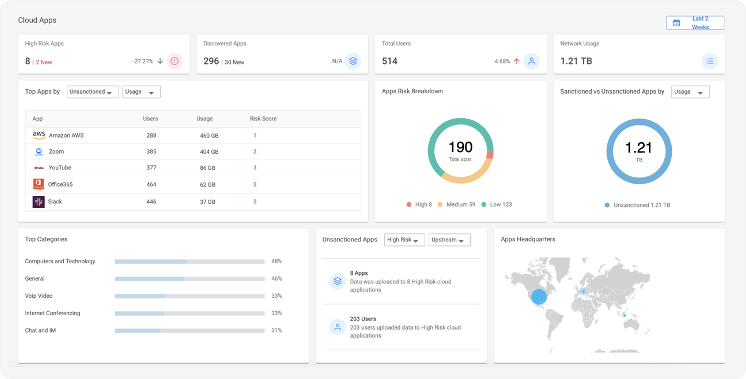 Advanced Threat Prevention
As part of Cato's Advanced Threat Protection, Cato offers anti-malware protection and Intrusion Prevention System (IPS) capabilities. Both services inspect WAN and Internet traffic. Additionally, Cato PoPs inspect TLS-encrypted traffic in the Cato Cloud, so there is no scaling constraints or additional latency.
Anti-malware
Malware Detection and Prevention leverages multi-layered and tightly-integrated anti-malware engines. First, a signature and heuristics-based inspection engine, which is kept up-to-date at all times based on global threat intelligence databases, scans files in transit to ensure effective protection against known malware.
Second, we've partnered with SentinelOne, an industry leader, to leverage machine learning and artificial intelligence to identify and block unknown malware. Unknown malware can come as either zero-day attacks or, more frequently, as polymorphic variants of known threats that are designed to evade signature-based inspection engines. With both signature and machine learning-based protections, customer data remains private and confidential, as Cato does not share anything with cloud-based repositories.
IPS Protection Engine
Cato delivers a fully managed and adaptive cloud-based IPS service. Cato Research Labs updates, tunes and maintains context-aware heuristics, both those developed in house (based on big-data collection and analysis of customers' traffic) and those originating from external security feeds. This dramatically reduces the risk of false positives compared to other IPSs that lack an experienced SOC behind them. Cato Cloud scales to support the compute requirements of our IPS rules, so customers don't have to balance protection and performance to avoid unplanned upgrades as processing load exceeds available capacity.
Our IPS service applies several layers of inspection to provide context-aware protection. We collect the metadata of all the traffic flows that traverse our network. That information is stored in our big data warehouse and enriched with third-party data feeds. We are then able to apply machine learning algorithms to identify suspicious or malformed traffic, which is further refined by our SOC. As a result, Cato's IPS can:
Identify deviations from normal or expected traffic based on behavioral signatures
Block known compromised or malicious IPs based on reputational feeds
Stop traffic based on the source or destination country
Validate packet conformance to the protocol, reducing the attack surface from exploits using anomalous traffic
Protect against known CVEs and rapidly adapt to identify new vulnerabilities
Stop outbound traffic to C&C servers
Detect and block bots

IPS Protection Engine
Managed Threat Detection and Response to Reduce Dwell Time
Cato's Managed Threat Detection and Response Service (MDR) enables enterprises to offload the resource-intensive and skill-dependent process of detecting compromised endpoints to the Cato SOC team. Cato seamlessly applies a full MDR service to customer networks. We automatically collect and analyze all network flows, verify suspicious activity, and notify customers of compromised endpoints. This is the power of networking and security convergence to simplify network protection for enterprises of all sizes.